Welcome to the DeathSpank Wiki!
The collaborative website about the DeathSpank universe that anyone can edit.
This wiki contains 280 articles, and 241 files since 26th June 2010.
Help us add content and expand this wiki!
Recent changes | Active users | Categories | Help pages
About DeathSpank: Orphans of Justice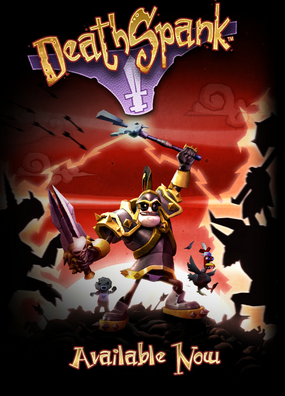 Everything You Need to Know About DeathSpank.
Charming. Intelligent. Enigmatic. These are just a few words you won't be using to describe DeathSpank. He doesn't stab first and ask questions later. He doesn't realize there are questions. Created by Ron Gilbert, the legendary mind behind Monkey Island, DeathSpank is the rarest of the rare: an honestly funny, fun video game.
Described by top scientists (and most reviewers, some of them scientists) as Monkey Island meets Diablo, DeathSpank is an exciting hack and slash action RPG set on a massive, dangerous, curvy world. In between hacking and slashing, DeathSpank solves puzzles and explores an epic story. DeathSpank will vanquish evil and be a hero to the downtrodden; he will collect loot, level up, collect loot, acquire new abilities and collect loot.
As you probably just guessed, DeathSpank is filled to bursting with hundreds of weapons, armor sets, witty dialog, improbable scenarios, unexpected villains, and challenging bosses. The action is easily accessible for short bursts of unsupervised fun, but the story is revealed over ten to fifteen hours of gameplay. And there's more! DeathSpank does not fight alone but with the mighty wizard Sparkles, letting your real-life flesh friends play alongside you in two-player local co-op as DeathSpank quests for the mysterious Artifact called…the Artifact! DeathSpank is the high quality, low priced romp for XBLA/PSN your parents hoped you would grow up and marry one day.
News & Blogs
We need as much help as we can to fill this wiki with all of the information we can. If we all work hard, the wiki will be finished in no time!
See more >
More news...