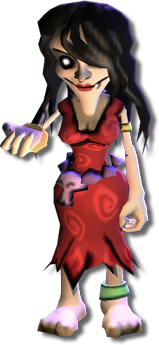 Ms. Heybenstance is an old demon witch that lives down the road. She's a master of black magic, demonic incantations, evil spells of sorcery and makes a mean apple pie.
She has a few Dragon Hatchling pets and will also be unhappy if DeathSpank kills the Shambling Skeletons before reaching her house. This is because she likes to play Bridge with them.
Ms. Heybenstance will eventually help DeathSpank look for The Artifact which she was responsible for protecting.
You can find her at Heybenstance.
A very similar character called Hannah Heybenstance appears in DeathSpank: Thongs of Virtue. It's currently unknown if they are related (or even the same person, for that matter).
It is also possible she maybe the sister of Gretchen Heybenstance.